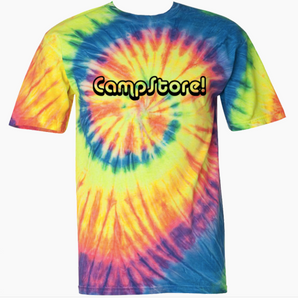 This shirt is for our July 16 Tie Dye Day event! Join us on July 16 from 11am-1pm for fun for the whole family! You purchase the t-shirt, and we provide the tie-dye supplies and fun! Purchase one for your kid(s), and grab one for yourself, too!
PLEASE NOTE: Limited sizes are available for youth and adults - when we're out, we're out! These are the only shirts we'll honor for this event - please do not bring your own, outside shirt to tie dye. 
*PLEASE DO NOT SELECT A SHIPPING COST* This is for an in-person event at CampStore! This item isn't available to ship at this time.